Grammar Exercises eBook
ESL Grammar Exercises for Teachers
Grammar Exercises E-Book for English Teachers:
257 Pages
123 Worksheets and Answers
Exercises on 52 Different Topics
Best For:
English as a Second Language Students
Young Native Speakers / Mostly Elementary School
English Education for Adults
Along with the exercise book, Buyers get 5 more little E-Books as a gift:
1. Gerunds and Infinitives PDF (60 Pages)
2. Modals and Similar Expressions PDF (44 Pages)
3. Noun Clauses PDF (46 Pages)
4. If Clauses PDF (19 Pages)
5. Determiners PDF (28 Pages)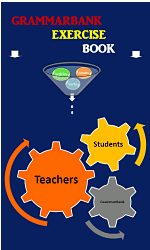 Affiliates
Like this product?
Spread the word about it and earn 60.00% of the purchase price on sales you refer.
Join our affiliate program